Say Goodbye to
Random Acts of Marketing
Amplify Your
Brand Reach Mission Culture
Embrace Tailored Marketing Solutions Designed for Your Business' Unique Rhythm
Discover the intraMuse difference: Mindful marketing that harmonizes with your brand's essence. Our approach is not about one-size-fits-all solutions; it's about crafting a marketing strategy that aligns with your business objectives, integrates seamlessly with your existing processes, and stays attuned to the ever-changing market trends. With us, your marketing strategy is not just a trend follower – it's a trendsetter, uniquely tailored to amplify your presence.
Your Marketing Partner
Service Packaging Structure
Every business has unique marketing needs. That's why we offer a range of service packages, each designed to cater to different aspects of your marketing journey. From one-time consultations to ongoing management and supportive collaborations, our services are tailored to fit your business perfectly. Choose how you want to work with us. Whether it's on a project or ongoing capacity, we are there with you every step of the way.
Marketing Consulting
Strategic Launchpad
Embark on your marketing journey with a project-based blueprint tailored to your brand's unique needs. Our consulting services provide you with a one-time, comprehensive strategy that lays the foundation for your brand's future growth.
Marketing Management
Continuous Evolution
Elevate your brand with intraMuse Creative as your dedicated marketing department. Our monthly retainer service ensures a persistent, evolving marketing strategy that grows with your business. This ongoing partnership allows us to dive deep into your brand's world, aligning your marketing efforts with your mission every step of the way.
Marketing Support
Collaborative Expertise
Augment your existing marketing team with our specialized support. Whether it's a skill gap you need to fill or additional resources for a major project, our team integrates seamlessly with yours to deliver results without the overhead of hiring new staff.
At intraMuse Creative, we aspire to not just meet, but exceed expectations, crafting marketing strategies that inspire our clients to share their success stories with the world.
"intraMuse worked with me to develop the best website my business has ever had (which is around 10 complete revamps throughout the years."
SERVICES
Each service, whether a standalone project or part of an ongoing partnership, is meticulously tailored to align with your brand's mission and objectives. Discover how our holistic approach to marketing can create a cohesive, effective strategy that not only elevates your brand but also resonates with your target audience.
Branding
Crafting your unique identity. Branding services to shape a distinct, memorable brand that resonates with your audience.
Content Creation
Telling your story. Deliver engaging, relevant content that speaks to your audience and builds brand loyalty.
Digital Advertising
Maximizing your online reach. Targeted ad campaigns across social media, Google Ads, and/or display advertising for optimal impact.
Direct Mail
Tangible impact. Direct mail is not dead. Grab attention and create a lasting impression in your customers' hands.
Email Communication
Keeping you connected. Share captivating email campaigns and newsletters to keep your audience informed and engaged.
Graphic Design
Visual storytelling. Visually striking materials that communicate your brand's message effectively.
Search Engine Optimization
Enhancing your online visibility. SEO strategies that boost your search rankings, drawing more traffic to your brand.
Social Media Management
Build a vibrant community. Dynamic social media strategies to enhance your online presence and connect authentically with your audience.
Website Design
Building your digital home. Visually stunning, user-friendly websites that encapsulate your brand essence.
Website Maintenance
Keeping your site at its best. Proactive steps to ensure your site remains updated, secure, and functioning smoothly.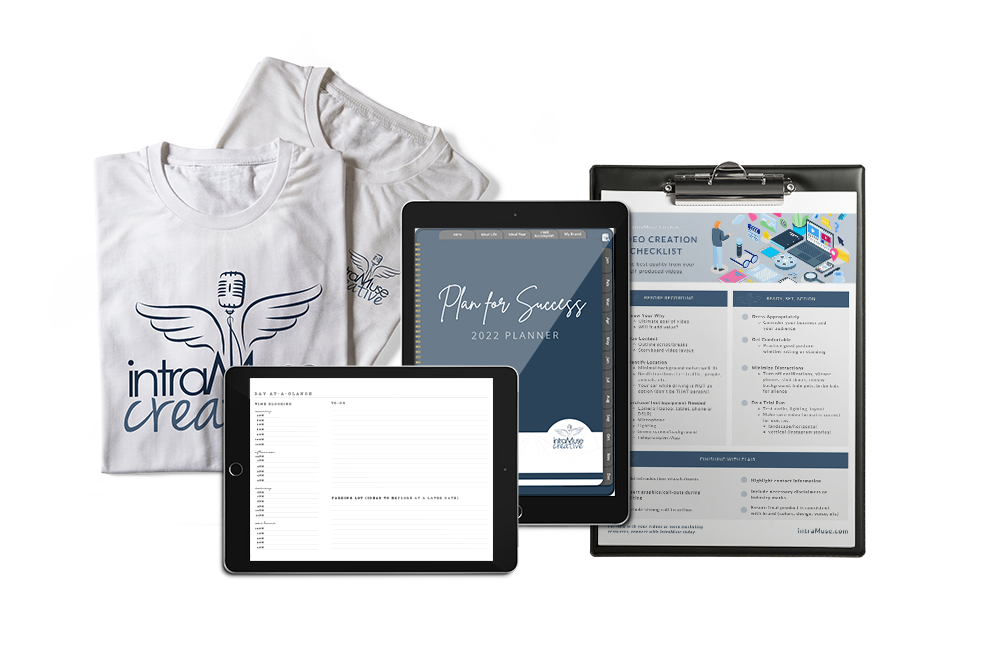 The Shop
Plan your continued success with tools designed to support you and your business. From development materials to print-on-demand custom branded apparel, implement what matters most to your goals.
P

MARKETING PLANS

P

SOCIAL MEDIA PLANS

P

CONTENT CALENDARS

P

PERSONAL PLANNERS

P

BRANDED MATERIALS

P

BUSINESS TOOLS

P

CONTENT PLANNING

P

EMAIL CAMPAIGN PLANNING