SEARCH ENGINE OPTIMIZATION
The Value of SEO for Small and Medium-Sized Businesses

Scott Beckman, SEO Expert Resource
"If you're not first, you're last."
While that adage turns out to be untrue in the movie it's from, it's actually pretty accurate when it comes to SEO. If you're not on the first page, you're not likely to get any traffic from a target keyword. Even if you're on the first page but below the first position, you'll get far less traffic than you would get if you did reach first place.
But only one listing can be first. In highly competitive markets/industries, even the best SEOs struggle to get their clients to that prime position, and no good SEO would dare guarantee it.
So what's the point?
It's a reasonable question. Why spend money on SEO when the chances of getting to the first position for your highest-value keywords might be low, particularly if you're a small-business owner with very limited funds to invest in marketing?
It depends on your particular business, industry, market, etc. but in general, I think there are a few good reasons to make SEO part of your marketing strategy.
You'll never get to first position without it
Without an intentional SEO strategy, the odds of reaching first page/position for competitive keywords is essentially zero.
You do get SEO value from external sources, of course. Do your job really well and people may brag about you online, which can boost your SEO. Get a write-up in the local paper and a link from the online version will benefit your site. Sponsoring an event and getting your logo on its website also helps.
But doing all that a hundred times over won't earn you SEO success if your site is uncrawlable, your site architecture sucks, every page takes 30+ seconds to load on mobile, etc.
Without an optimizer ensuring that you're putting your best foot forward when it comes to Google, you'll almost certainly never stumble into SEO success. Hopefully you don't need it and your business thrives on word-of-mouth but if you do want to take advantage of free, organic traffic and visits, you'll benefit from hiring an SEO specialist.
You could lose your easy first positions
If your brand/business name is whatsoever unique, you should rank for it. But SEO-savvy competitors may come after your terms if you let them.
For example, I'm writing this post at a breakfast/coffee shop called Toast. If you search for "toast breakfast" anywhere in Denver, it'll probably pop up first. That's easy traffic they get from people who already know what they're looking for.
Yet if Toast isn't optimizing its site or Google pages for SEO and the competitor a block over hires a smart SEO, that competitor might be able to steal Toast's easy traffic.
The competitor might create a page on their site all about having toast for breakfast. Maybe it talks about the history of toast for breakfast, explains why it's ubiquitous now, offers detail and recipes on the kinds of bread you typically see for breakfast, etc. Maybe they work hard to get backlinks to that page from food and health bloggers. Maybe they make a series of silly videos about breakfast toast that go viral on Facebook. Maybe they even create a mascot, Toasty the Breakfast Bread, and he gets screen time by dancing behind live news reporters.
The point is, all of this could easily create a page and a website that far outranks Toast's, and suddenly people searching for "toast breakfast" only see the competitor in the top positions.
Investing in SEO helps to prevent this, since you'll have someone keeping an eye out for competitive SEO (and hopefully engaging in it to steal your competitors' traffic instead).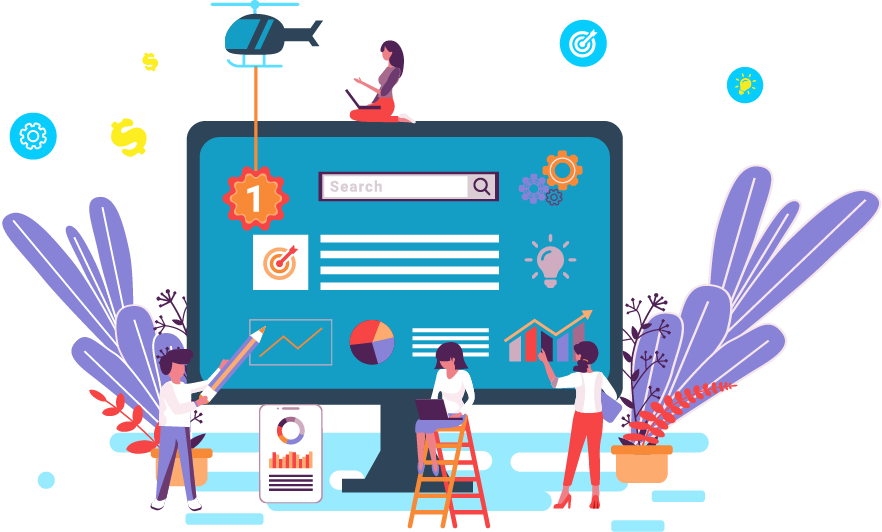 SEO is more than just rankings
While SEO at its core is about optimizing your website to earn higher rankings, most web optimizations have a bunch of secondary benefits.
This makes sense when you think about it. Google wants to return search results that provide the best experience possible for searchers – that's how they provide value. If your site experience sucks, even if it has the best technical SEO in the world behind the scenes, Google is going to try not to allow it to rank.
Having an optimized website means providing a better experience for the customers who reach it. They'll find it easier to navigate and understand. It'll load faster and look good. Those customers will enjoy their browsing experience more, and that means they'll be more likely to convert into business.
So even if your SEO is never able to get your site to first position or even the first page for the highest-value keywords that you'd like to rank for, their optimizations can still bring in revenue. This is true even if the only way anyone is getting to your site is through paid traffic and not organic at all.
High-quality content and link building are the two most important signals used by Google to rank your website for search.
At the end of the day, you should be smart with your marketing dollars. You need to weigh the pros and cons of the various strategies against each other to decide on your marketing mix. There's a good chance that many small business owners might need to invest their dollars in advertising, sponsorships, or hiring before they can think about SEO.
But that doesn't mean you should turn your back on SEO completely. There's a reason it's such a big deal in the marketing world, and a reason that the best optimizers make the big bucks at major corporations. There's huge value in putting in the work to earn free organic traffic so make sure SEO is always something you're considering, regardless of your marketing budget's size.