Are You Successful on Facebook? 7 Questions to Ask Yourself About Your Social Media Marketing Efforts

Mim Mirsky, Content Marketing Wizard
Facebook is the leading social platform, reaching 60.6 percent of internet users.
Competitive companies know that digital marketing is essential. It's no longer a question of "Does my organization need a Facebook account?" Now businesses and nonprofit organizations want to know "Is my Facebook account an effective part of my marketing strategy?" Put simply, is it worth it?
I'm focusing on Facebook for three reasons. First, while Facebook offers paid advertising options, you can accomplish a ton without giving them any money. Second, the Insights section of your Facebook business page provides a robust set of data about the activity on your page and your followers. Third and most importantly, Facebook still dominates in popularity among all social media platforms across most demographics, including adults in the United States.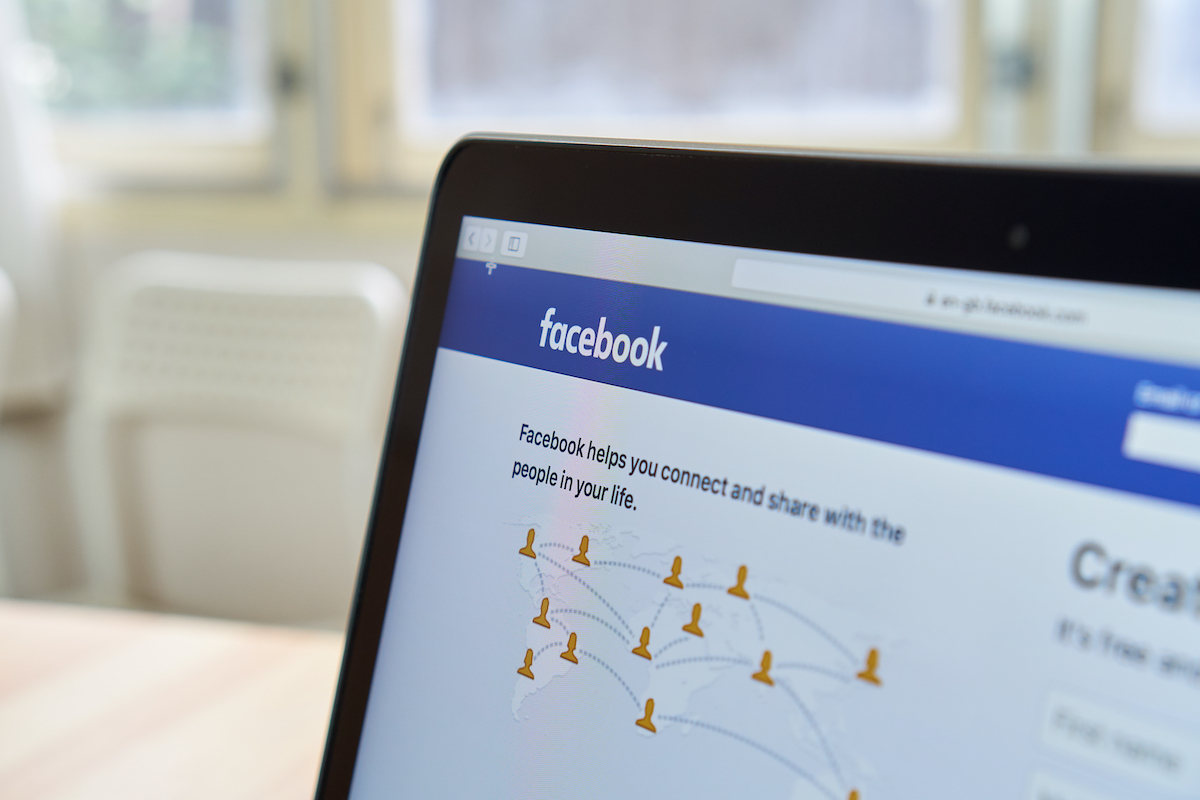 Leading brands build awareness and engage with consumers online, especially on Facebook. But do you know how to tell if your Facebook marketing campaigns are successful? Here are 7 questions that I ask myself when creating digital marketing plans that deliver a high return on investment. BONUS: I love digging into Facebook's Insights tool to plan, evaluate, adjust, and report on my strategic social media plans! I'll tell you which Insights I use.
1. What's my overall goal?
I start each campaign with a clear idea of what a successful outcome looks like because I use different tactics to grow my following, promote an event, increase website traffic, or find out about my audience's interests. I determine which content types and performance metrics to track based on these specific goals. Then, I record the starting point of those key metrics and monitor them throughout the campaign to know how I'm doing.
2. Does my audience like (react to and share) what I post?
Before I create any new posts, I look at what my fans thought of my past Facebook posts. I use the data on the Posts tab to compare the performance of post types, such as status, photo, and link, as well as individual posts. Then, I can create more of what's popular or test new content types, like polls and videos.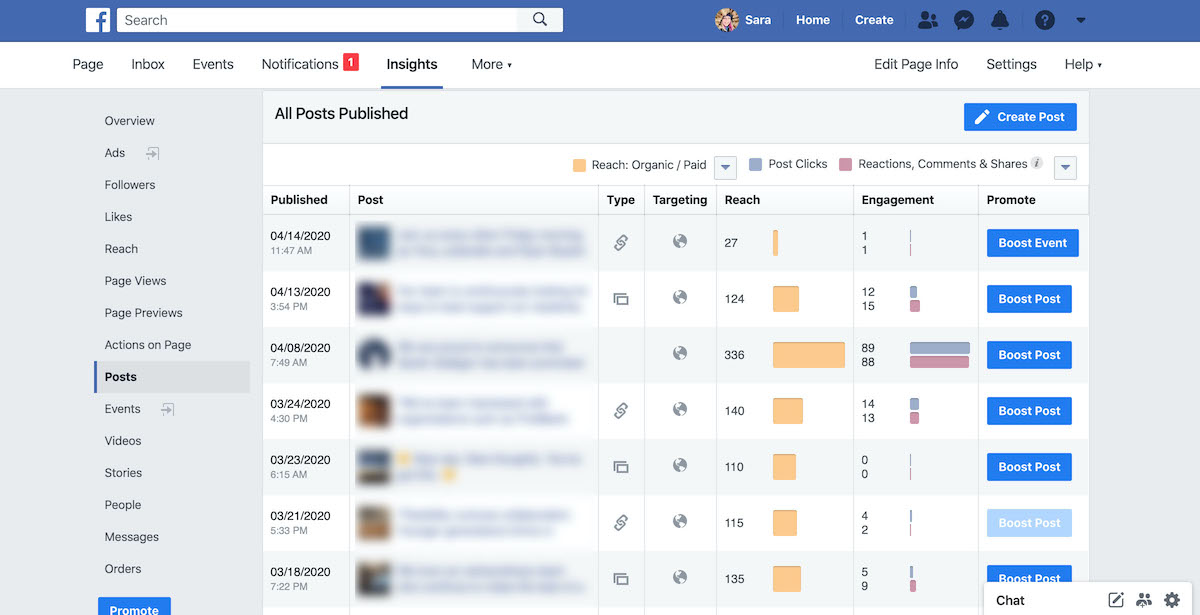 69% of U.S. adults use Facebook.
74% of Facebook users visit the site daily, including more than half who check it several times a day.
3. How many fans do I have?
I aim for consistent, positive growth in followers because it means that my content is attracting new people and still connecting with my existing fans. It's easy to spot whether the number of followers is trending up or down on the second chart on the Followers tab. If I'd used Facebook's paid advertisement or boosted posts, I could also compare how many new followers I got through those methods versus organic ("free") content marketing.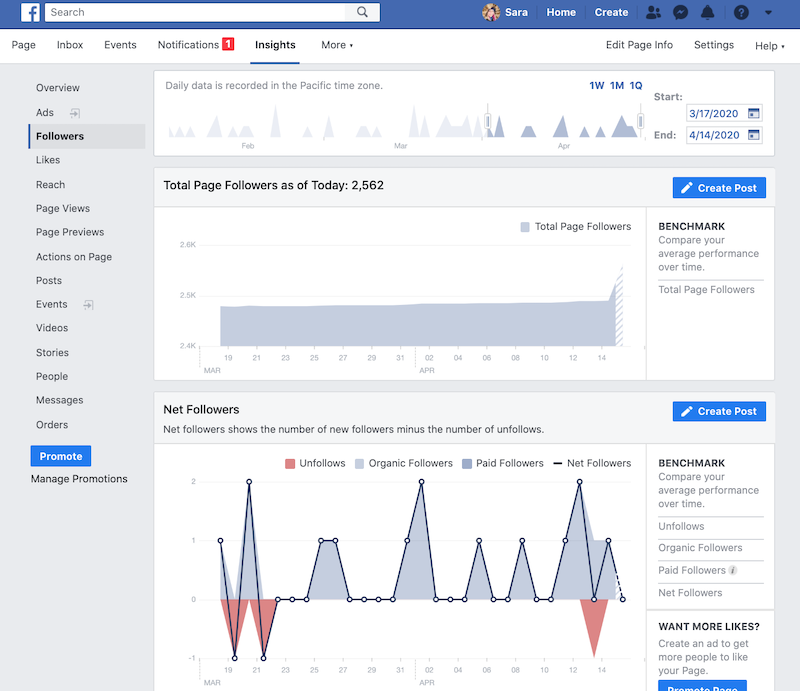 4. What are they saying about me?
I must monitor my company's online reputation by knowing what is being said about us. Facebook shows a page's response time, so it's important to reply quickly, especially to complaints. I get notifications when my business is tagged in a post (for example, @MYCOMPANY), but Facebook doesn't catch the posts that only name us without tagging our page. You can use social media monitoring tools, like Mention and Hootsuite to track social media mentions.
The average monthly change in page likes is just 0.13% Building your Facebook audience is definitely a slow and steady game.
 (Source: Hootsuite)
5. Do they want to learn more?
Earlier (question #2), I said that I create new content as the same types of posts that I already know my audience likes. "Post type" describes how the information is delivered. True content marketing is about what you share. The best way to establish consumer loyalty is to consistently produce quality materials on topics that matter to them. I check "Post Clicks" in the Engagement column to learn what topics motivated my followers to click on a link or more pictures in my posts.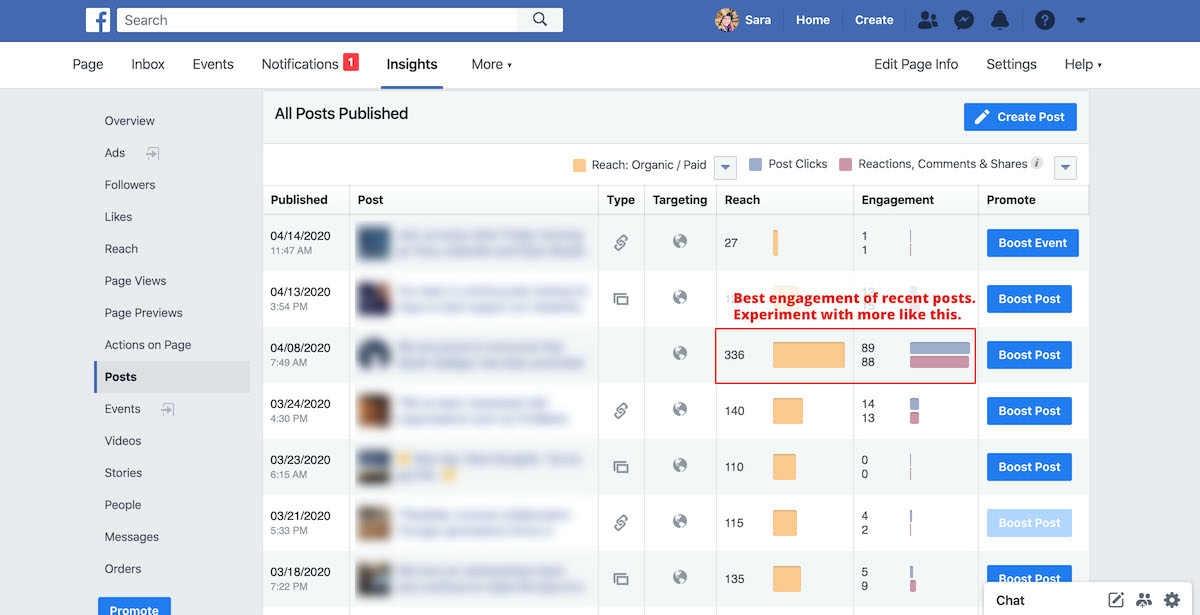 6. Are they going to my website?
I don't think of Facebook as the end-goal of my marketing campaigns because we don't sell goods or services on that platform. Instead, I want to drive visitors from my Facebook account to watch our introduction video or schedule an appointment on our website. To track and measure my referral traffic from Facebook to my website, I use another tool outside of the Facebook Insights: Google Analytics.
7. How many people saw my post?
Some users don't realize that Facebook does not serve all of your content to all of your followers, it uses its own algorithms to determine who sees what. If your page and posts are public, they can be shared beyond your followers, too. So, I've always been curious about exactly how many people see my posts, between my fans and whoever they share my posts with. Facebook calls this the "Post Reach" and they give data about individual posts and let you compare all of your page's posts, too.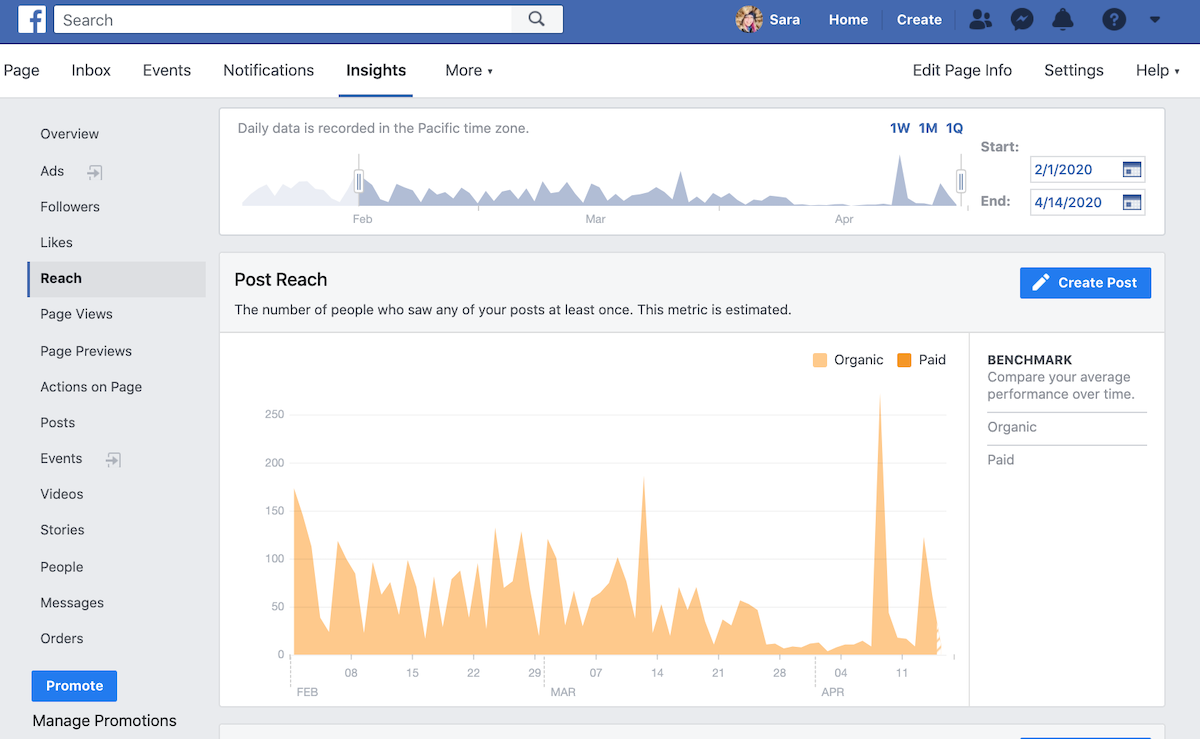 Social media provides me with an exciting playground to pilot new marketing approaches and get instant performance feedback. And I'm not alone! The fastest-growing companies in the United States use social media to achieve a wide range of marketing goals, such as brand promotion and lead generation. (SOURCE: Center for Marketing Research, University of Massachusetts Dartmouth) If you know what you want to accomplish and how to measure it, you'll be able to implement successful online marketing campaigns and demonstrate their effectiveness to your company's leadership. Do more than just "spend time" on Facebook. Amplify Your Brand and prosper!