Memorial Day Giving Flyer

Sara M Russell, owner intraMuse Creative
In honor of Memorial Day weekend, we wanted to give something with a purpose. While we remember all of the brave men and women who gave the ultimate sacrifice, we encourage everyone to make a donation to a military related charity.
Download our free flyer PDF commemorating the holiday and simply add your website address to the bottom. Then share it on your website or email it to your audience to share. All of the charity names in the PDF are direct links to the organization.
We also encourage you to lead by example and let your audience know which charitable organization you will be supporting. These are all worthy organizations, so we don't want to sway your choices but the intraMuse Creative team has contributed to 2 of these organizations.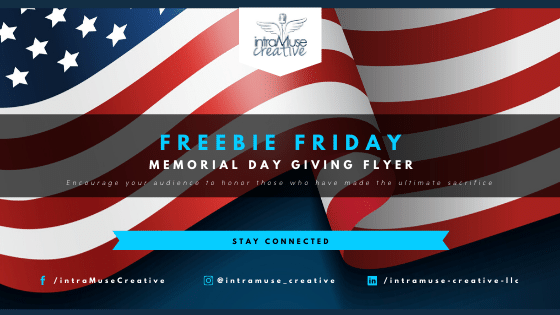 "As we express our gratitude, we must never forget that the highest appreciation is not to utter words but to live by them."
(John F. Kennedy, jr)
How to Use THE PDF
STEP 1
From your computer, click on the image below to open it in a new web browser tab.
STEP 2
Replace "www.yourwebsite.com" at the bottom of the flyer with your company's web address.

STEP 3
Save the file as a PDF.

STEP 4
Share via email or online with your audience. The names of all of the charitable organizations are direct links, making it easy to learn more and make a donation.
What Would You Find Valuable?
tell us what we could provide to help you and your brand
SUBSCRIBE TO OUR NEWSLETTER
About Us
At intraMuse Creative, we believe in unwavering creativity. Not just in the final product, but in the entire process from how we connect with you, approach the project, tell your story and maximize your results.