Inspirational Quote Social Media Graphic Templates

Sara M Russell, owner intraMuse Creative
Welcome to our first installment of "Freebie Friday!" In our commitment to provide added value to you, our loving audience, we are busy finding resources that could hopefully help your marketing efforts.
If you have suggestions for things you'd like to see us offer in subsequent editions of Freebie Friday, please fill out the contact form at the end of the post.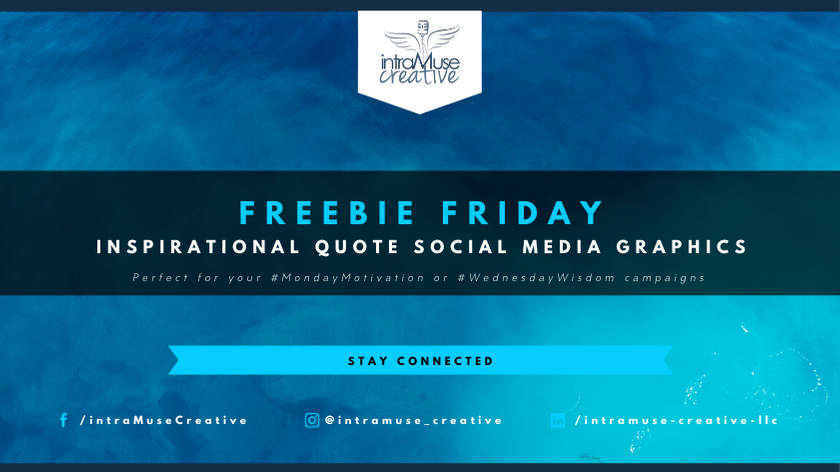 Inspire Your Audience
A solid social media strategy follows a 70-20-10 formula:
70% Content That Builds Your Brand
This is content that is informative and insightful and doesn't come off as an advertisement.
20% Curated Content
Sharing is caring and also helps establish you as a thought leader in your industry.
10% Self-Promotional Content
Outside of sponsored content, most users tire of content that is too salesy, especially when overdone. Sprinkle these into your strategy wisely.
"Instagram has 1 billion monthly active users, and 500 million of them use it daily."
How to Use the Canva Templates
STEP 1
Pick an image below and click on it to be taken to Canva. (You need a Canva account to access these templates, so sign up for a FREEBIE if you don't already have one.)
STEP 2
Click on "Use template" button or the pencil ✏ and select "Use template."

STEP 3
Personalize the design. Be sure to change the URL on the bottom to your website. You can even add your logo.
STEP 4
Once you've completed your design, download the image and share on your chosen social media channels. We recommend trying to use them as a part of one of the popular hashtag campaigns on Instagram or Twitter: #MondayMotivation, #WednesdayWisdom or #QuoteOfTheDay. You can also share across Facebook, Pinterest and even LinkedIn.
What Would You Find Valuable?
tell us what we could provide to help you and your brand
The Small Print
This giveaway of templates is not affiliated with Canva in any official way.

These templates are

our own original content

and any likeness they bear to other work is unintended.

Canva makes no promises regarding third-party templates, and Canva shall not be liable for anything arising from the creation (or purchase) of a third-party template.
This is our first time trying to give YOU a resource using Canva templates. Please be gentle with us and if something doesn't work correctly for you, shoot me (Sara) an email at sara@intramuse.com. Thanks!
SUBSCRIBE TO OUR NEWSLETTER